Co-Curricular Activities
The school offers a wide-ranging programme that provides for the all-round development of a student's personality through many avenues.


ROBOTICS
Students from grade 1 – 12 work collaboratively on STEAM kits that are based on the principles of AI/IOT/Robotics and learn coding programming (C/ Python / drag and drop) and other relevant computational skills. Science. Technology. Engineering. Arts. Mathematics. STEAM is an educational approach to learning that uses Science, Technology, Engineering, the Arts and Mathematics as access points for guiding student inquiry, dialogue, critical thinking and work through the creative process.
STEM EDUCATION
STEM education provides experiential learning for children. It gives an exposure towards project-based learning hands-on experience to learn various fundamental motor skills and helps the child to develop the analytical skills required for problem-solving. This method of education creates a differential – bringing multiple subjects together and letting the child drive his journey through a guided curriculum. STEM students have shown good results learning existing concepts of science & Maths improved language skills ability to understand and solve complex problems.
MUSICAL INSTRUMENTS
Students from grade 1- 12 learn/master musical instruments like the Drums, Guitar, Percussion and Keyboard under the guidance of musical experts.
SPORTS & GAMES
Physical education is an integral part of the curriculum. Students have a unique opportunity to be trained in cricket, football, basketball, volleyball, table tennis, badminton, lawn tennis, chess and carrom.
DANCE
Allows students from grade 1 to 7 to experience a wide range of dance styles enabling them to develop their interests and equip them with the skills and techniques to perform at their full potential. Students build confidence and work upon their intra and interpersonal intelligence.
MUSIC
Music classes are conducted, which helps students to develop their skills in singing. It also enhances the student's capabilities to build self-confidence, promote self-esteem, support social ability and also facilitates learning other subjects.
DRAMATICS
Students from grade 1- 12 develop cognitive abilities that complement study in other disciplines. Through Drama, students learn to approach situations in an array of different manners which can help to develop creative thinking and new study techniques. Further, it builds confidence which benefits public speaking opportunities. Student group activities enhance communication between peers.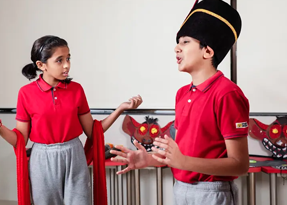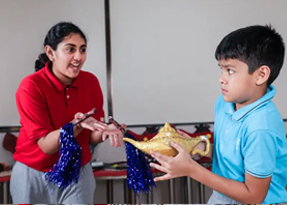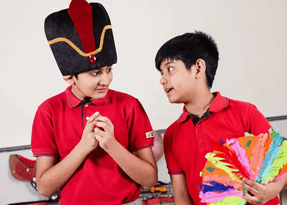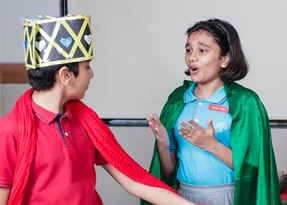 INTER-SCHOOL / INTER-HOUSE COMPETITIONS
The school regularly prepares students for various competitions such as elocution, debates, one-act plays, environmental projects, folk dances, painting, general quiz, Math Quiz, 3D-Printing etc. by committed and talented staff.
PUBLIC SHOWS
The school has earned an excellent reputation on account of the cultural shows put up on various occasions, e.g. on Annual Day, Independence Day, UN Global Goals Day every year.
STUDENT COUNCIL
Podar International School creates a positive learning environment to develop pupil holistically. Opportunities are available for students to develop cognitively, socially and morally. Besides, the school has put in place an efficient structure to develop the leadership qualities of the pupil via student council.