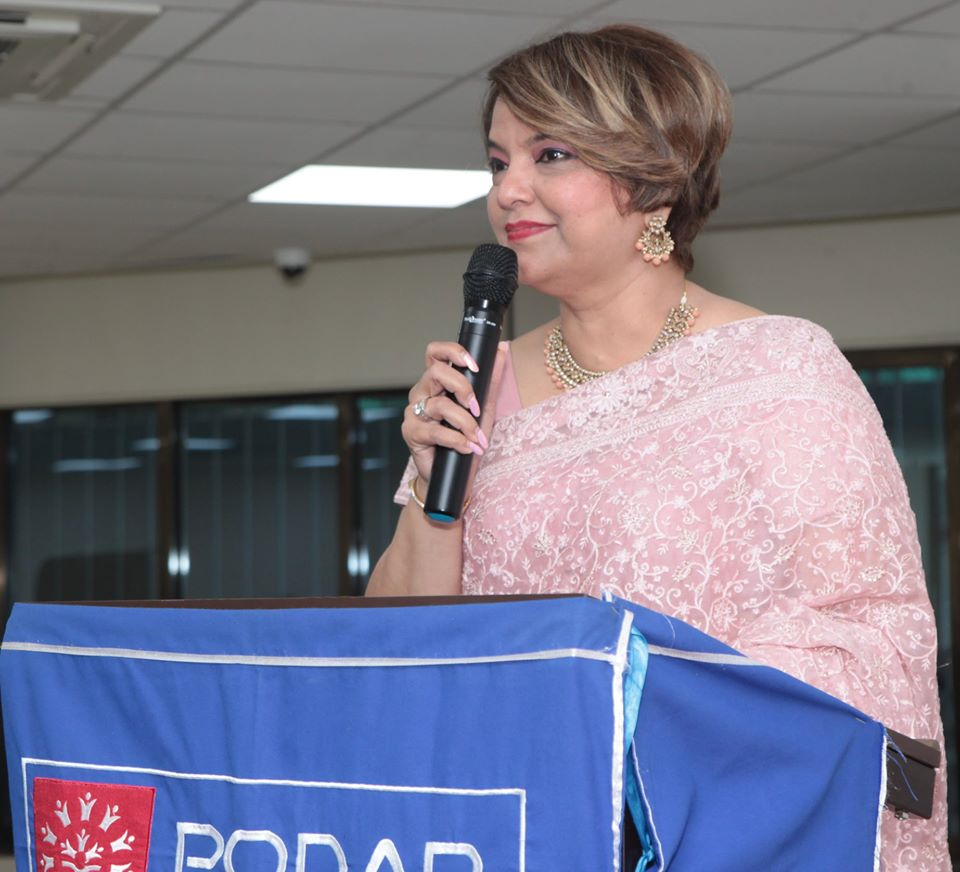 In conversation with Dr. Mrs. Vandana Lulla, Principal Podar International School, Santacruz. A leader in the Education Sector with over 30 years of experience of working with children and successfully running both the A levels and IBDP Programmes.
Understanding which curriculum is right for your child: IB or A-Levels ?
Both these programmes are excellent. However, some students excel in the breadth the IB offers while others benefit from A-Levels' which is an in-depth programme. One confusion most parents have, especially when their kids are ready to move from primary to secondary school, is choosing a curriculum that will help with university admission.
The two obvious choices, especially for children going to Cambridge UK curriculum-based schools, is simply, A-Level programme or the International Baccalaureate (IB) Diploma Programme (IBDP).
Both the courses are popular high-school programmes, which students take during the final two years of their schooling, the eligible age criterion being 16 to 19 years.
Parents have several questions to compare the programmes regarding university recognition, level of difficulty and if students can shift from one programme to the other. Here are some answers to help make the choice easy.
What are the differences and similarities between the A-Level and IB Diploma programmes?
It is important to understand that rather than a discussion of which is the best curriculum, we need to focus on the study habits and patterns of a student and his previous educational background which will give us an insight into the former.
Both these programmes offer the same level of education and both are recognized university entry qualifications.
When A-Level exam boards and the International Baccalaureate Organizations design their subject curricula, they work with universities to ensure they are at the correct standard, with the level of content needed to allow students to begin university study.
A level requires the students to take minimum three subjects (any combination) plus English language on the other hand IB is designed to ensure students take up a broad range of subjects – six in total. IB also includes a compulsory core programme comprising of Theory of Knowledge, an Extended Essay and an evaluation of a student's CAS (Creativity, Action and Service). You have to "pass" this core as well as secure good scores in your six subjects to get a Diploma. A levels are graded by letters, with A* being the top grade, while IB uses a points system (the perfect score is 45 points), where 24 points and above secures an IB Diploma. The Diploma is, effectively, a worldwide qualification.
This ensures that the subject content is fairly similar in both programmes. Both are taken every year by thousands of students across the world and both are recognised and well known by all major universities.
I've taught A level and IB in top academic schools, and done a tour of duty as Head of Oxbridge, what I say below, the comments are based on experience as well as observation and research:
| | |
| --- | --- |
| A Levels | International Baccalaureate |
| Encourages in-depth expertise and mainly exam oriented Students taking A Levels tend to become more specialized and focus on three or four subject areas that reflect the direction that they are likely to take at university level | Encourages a global outlook with inquiry based learning and internal assessments balanced with exams. The International Baccalaureate Diploma Programme (IBDP) continues the broad and balanced learning approach to subjects as usually found in the school curriculum up to the age of 16 |
| Parents are more aware of the learning process as it is based on textbooks | Some parents feel less involved since internal assessments and essays are research based and student specific. |
| Minimum of three subjects | Minimum of six subjects – three at a higher level, three at standard level |
| Graded with letters, A* being the highest grade | Subjects are scored from 1 to 7, need 24 to obtain the diploma and 12 points in HL subjects. |
| Flexibility in choosing subjects – a child good with numbers can take math, further math and physics | Students need a mix of humanities, sciences, and languages, making the programme balanced. |
IB Diploma Subject Details:
Students take six separate subjects including two languages, mathematics, sciences, humanities and, if they wish, an arts subject.
Students also take three core components, writing a 4,000-word extended essay, studying the Theory of Knowledge and engaging themselves in CAS activities comprising of Creativity, Activity and Service.
A-Levels Subject Details:
This programme require students to study three to four subjects. Although not part of the A-Level courses, most schools will offer extensive extra-curricular activities and study programmes.
Which is a more reputed qualification?
Both programmes are credible qualifications. We must understand what suits the student better and make a decision.
Some may believe that students looking to study engineering or medicine at university are better served by the more specialised and in-depth offering through A-Levels. However, this is just a hypothesis.
A student with excellent A-Level results is as likely to gain a spot in a top university as is a student with excellent IB Diploma grades.
The different lies in the approaches, and what suits different students. Some students will thrive on the greater breadth offered by the IB whereas others will benefit more from being able to narrow down what they need to study in the A-Levels.
Hard-working children will thrive in both A-Levels and the IB.
Is there a preference for any one programme at the university level?
No, there is no preference towards any one programme. Excellent students regardless of the curriculum will find top placements. Podar International School, Santacruz, has an amazing history of placements in some of the world's best universities. We will be sharing the same at the end of this article.
Is it possible to transfer in the middle of an academic year?
Both are portable qualifications being international. The curriculum is standardized across the globe. Hence it is possible to transfer out in the middle of an academic year and it is not uncommon as families move around the world.
What is important is that parents be aware of the differences between the IB and A-Level and make the decision based on the needs of their child.
The IB requires students to take a much broader range of subjects with further core units. Some students need to maintain this breadth and excel on the freedom this offers whereas for others, it is more appropriate to focus on a more structured, focused range of courses that allows them to drop subjects, which is what the A-Level offers.
If a student finds academic study a challenge or lacks motivation in one curriculum, she/he will probably continue to do so in another. Similarly, strong students with excellent attitudes to learning will thrive in whatever they do.
Understanding the grading systems
Both the A-Level and IB are highly rigorous and have clear grading systems.
The IB subjects are scored on a 1 to 7 scale. Students gain a maximum of three points for the core units giving a maximum total score of 45. A- Levels are marked on an A* to E scale, with A* being the highest grade.
Universities have clear benchmarks for both the curricula during placements.
Some schools offer IGCSE and then IB Diploma – what is the logic behind this?
While we offer both the A levels and the IBDP, however we must understand the transition between the IGCSE and the IBDP programme, is extremely smooth for children. However both the programmes are equivalent to one another, without one being better than the other. It is the approach to teaching and learning and assessments that makes them different.
Is it possible to study in an IB school and sit A-Levels?
We offer both A-Levels as well as the IB but they are two completely separate qualifications. When a student starts one, he or she cannot change midway through and cannot mix bits of one with parts of the other.
I hope this clarifies and helps parents in understanding the curriculums better. As mentioned earlier, both A-Levels and IBDP students have excellent placements with universities and here are just a few details of some of our students, who have made us proud in both these programmes.
Podar International School Consistently has students in the world topper and India Topper list, here are a few of them: